The Revelation
I have had so many questions throughout the years about the struggle, hatred, and oppression that Black people face, and never could find the answer. I believe it had to be deeper than skin color. Around the time of George Floyd's murder, I asked God, what is the state of Black America? Is systemic racism real? If so, why?
God revealed to me that Black Americans are Jews, descendants of Israel. Suddenly things began to make sense. This identity was hidden, as Black people were sold into the Trans-Atlantic slave Trade and stripped of their culture, language, and names, all of which would have proven who they truly were. They were given a new identity, oppressed, and manipulated. Despite many advancements and breakthroughs, our community still finds itself at the bottom tier of society. This revelation taught me two things; one being that the destruction within the black community, lack of unity, and failure to no longer remain at the bottom is due in part to a lack of true identity. Many in our community are at odds with God because they struggle to accept a Christ that was introduced by the oppressor. The second is that the war being waged against Black people isn't simply against skin color but against a chosen people, made in the image of God. This is the main focus of my book, Essays of a Young Melanated Christian Conservative Woman.
I vigorously researched to find information that supported what I believe God has revealed to me. I discovered a plethora of information from a variety of sources within the Hebrew Israelite community, the European Jewish community, and the Christian community. Coming from a Jamaican family and listening to Reggae, I have heard black people connect themselves to Israel all of my life. I have also listened to Hebrew Israelite street preachers and a part of me believed what they said as it relates to Blacks sold into slavery in the Americas being Jews; however, I never took the time to research before this revelation. I discredited what they proclaimed all these years because despite reciting scripture, they were spewing hate and/or denying Jesus.
It was surprising and refreshing to hear Christian pastors, like the late Stephen Darby, teach deeply on this subject. I believe he loved God and understood that we must love all people, and even if we are children of Israel, it is only by faith in Jesus Christ that we are saved. It has also been encouraging to find a faction of Christians who have this knowledge of our true identity without turning to old testament laws. I have found that this information has not caused them to stray, but has helped to reinforce their faith in our Messiah. They can connect with the scriptures in a deeper way and with deeper understanding. I was also amazed at the DNA findings, commentary, and books written by European Jews like Arthur Kessler and videos by Rabbi Rosenberg that acknowledge and embrace the Black Hebrew Diaspora. There is overwhelming evidence that proves the truth of what God has revealed. There are scriptures in Deuteronomy 28 that many believe is a prophecy of our experience because of our ancestors turning from God and worshiping the idols of neighboring communities.
Psalms 83: 3-5
They make shrewd plans against Your people And conspire together against Your treasured ones. They have said, "Come, and let us wipe them out as a nation That the name of Israel be remembered no more. For they have conspired together with one mind Against You they make a covenant:
The Confirmation
The Bible is Black History
While searching online, I came across a video of Pastor Dr. Theron D. Williams discussing his book, The Bible is Black History. As I opened the book, I flipped to the back of the text, and one of the first statements I read written by Williams was " The next evolutionary stage of the Black church must involve recognizing that Black People in America through blood or marriage are among the descendants of Yahweh's chosen people. This reality must encourage the African-American Community to seek solidarity with Israel's other descendants of the diaspora." I was amazed. This book confirmed what I believe God said to me and what I believe He wants to reveal to Black Americans and Black Jews dispersed throughout the world. It was also full of facts and evidence that aligned with much of what other sources on this topic have said. In the following paragraphs, I share some of the evidence that he sites in his work. I highly recommend this book.
Adam
"Under the leadership of Spencer Wells, The National Geographic Society, in association with IBM, conducted the Genographic Project. Launched in April 2005, this project aimed to find a place of origin and the ethnicity of the father of modern humans," according to Dr. Theron D. Williams. The project concluded that the father of modern man was a Black African. Using ancient human skulls from the region of Africa where researchers believed man originated, they created a bust with features they believe reflect what the first man may have looked like.
Jesus
A first-century Jewish historian by the name of Flavius Josephus is said to have given the first non-biblical mention of Jesus. Through time, some of His works were redacted for being "offense". But in 1931, a scholar by the name of Robert Eisler did a study of Josephus's work. He was able to reconstruct his work through ancient Russian translations that preserved the original Greek text. In his work, Testmonium Flavianum, he sites Josephus's description of Jesus' appearance. Some of the ways he described Jesus was that He had a simple appearance, mature age, black-skinned, 4'5 tall, hunchbacked with a long face and long nose. What some would argue made his description credible is that the historian was alive during the time after Jesus' time on earth so he would have access to those that knew him or looked like his people. It is also said that he had access to Roman documents that helped in his accounts of Jesus. Then in 2015, Richard Neaves, a retired medical artist from the University of Manchester in England, known for recreating the faces of ancient figures, "sought to lay to rest the controversy surrounding the appearance of Jesus using forensic and archaeological evidence" according to Dr. Theron Williams. Using advances in forensic science, skulls found from the time and place of Jesus' ministry, anthropological data, 3D digital reconstruction, and coloration from drawings found at archaeological sites in the Jerusalem area, Neaves recreation of what Jesus might have looked like lined closely to the description written by the First-century Jewish historian Flavius Josephus.
Image shot by: William F.S Miles

The Igbo tribe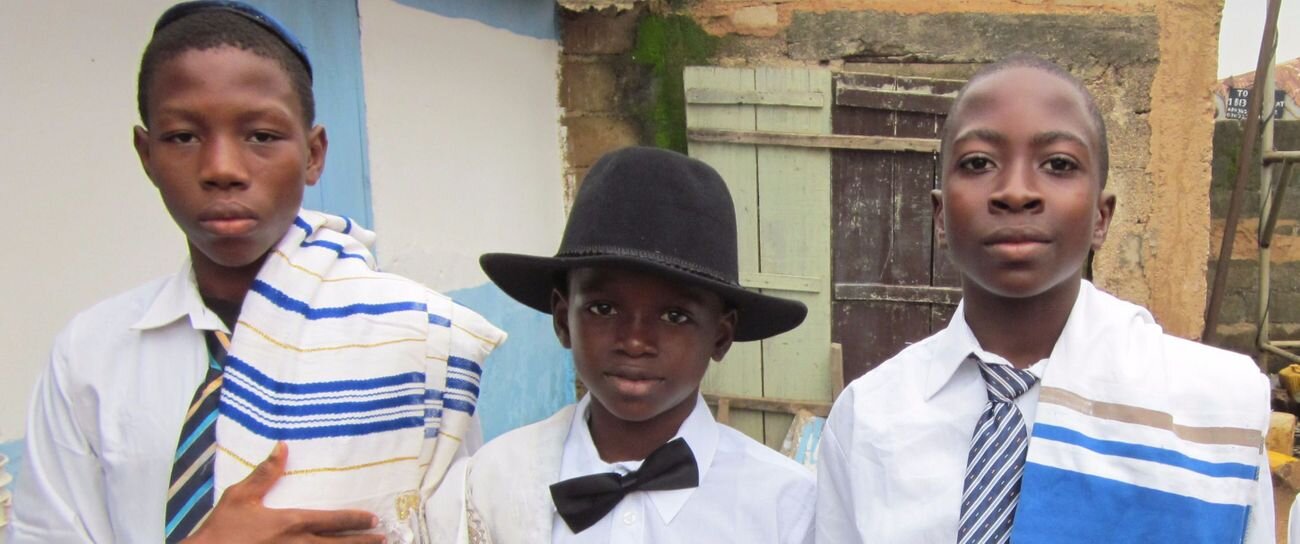 The Igbo tribe is a group that practices biblical Jewish customs to the letter and has lived in West Africa, primarily in modern-day Nigeria, for centuries. It is said that they are the oldest known Hebrew community in the world. It has been proven through DNA testing that members of this tribe can trace their lineage back to Israel. Many believe that The Igbo Jews migrated to West Africa during the Babylonian conquest of Jerusalem, and many also believe that the Jews fled to various parts of Africa including West Africa after the fall of Jerusalem in 70 A.D. The Igbo Jews settlement in West Africa is where many of the people who were sold into slavery in the Americas, were either kidnapped or sold into slavery by neighboring tribes." Daniel Lis wrote in his book, Jewish Identity Among the Igbo of Nigeria, discusses how other Nigerian tribes ostracized the Igbos. It is also interesting to note that maps created by Portuguese slave traders identify the same area in which the Igbo people settled in West Africa as The Kingdom of Judah. Judah is one of the twelve tribes of Israel, the tribe in which Jesus is a descendant and the Bible prophesied would be scattered among the nations.
Restoration
I firmly believe that one of the things that grieve God the most about His children is that we fail to acknowledge Him as King. A king in our context is a governor or president, someone who leads and creates the conditions that enable us to flourish. God planned that His children would operate like no other nation in terms of who they rely on for help and direction. In 1 Samuel, God's response to the demands of His people to give them a king, because they wanted to be like the other nations, was to give them an evil king who exploited them. He intentionally hadn't given them kings like the other nations because He wanted to make it known to them and the surrounding nations that there was a distinction and that His people served a mighty, true, and living God. He eventually appointed a king that was after his own heart (King David) and gave us a King that would save us from spiritual bondage and rule forever.
What implications does this have on our involvement in politics and modern-day society? We must support whatever political system or party that allows us to serve and worship God and not play god for us. How does a system or political parties play god? God is our provider; He makes a way for us; He gives us wisdom in using our gifts; He created a standard and doctrine that would cause us to flourish spiritually and materially, and gives us favor. The issues we are looking to fix in our community, the inequality, and the war being waged against us, is fought through and by the power of Yahshua. God has always defended and made a way for His people. The problem was never God forsaking us. It was us forsaking Him by turning to sin, worshiping the idols of those around us, and putting our trust in government to fix what is broken. The government of this world has been in opposition to God and His children since the beginning but every once in a while, God raises up leaders that, though they don't serve Him, serve His purpose.

The Black Church
I firmly believe that the practical solutions to fixing inequality and disparity in the Black community are in the church. The Black church is the oldest and most successful institution within the Black community. Its track record of success in transforming lives, providing hope, providing support, educating, raising up ministers, musicians, professionals, athletes, business owners, and lifting families out of poverty is unmatched. Many will try their very best to challenge this fact and fail. The Black church has existed before black colleges, black banks, and thriving black communities and was birthed amid slavery. Why have so many Black people turned their back on the church and their God? The Black church's success record has been overshadowed by greedy leaders, sex abuse, a lack of training up younger leaders because of the lust for power, and its prioritizing meaningless requirements and unspiritual ordinances over outreach and building up people. There is also the fact that many believe that Christianity was the white man's religion when the truth is, Christianity has been whitewashed by the catholic church. Make no mistakes about it, Jesus is for all people. Heaven will be filled with people from every race and ethnicity. Yet, He said the gospel is for the Jew first then the gentile and the biblical Jews were Black. The lack of identity issue and misrepresentation of Jesus and His word that was presented to our ancestors has created a bitter distance between many of God's children and God.
I believe that God wants the knowledge of the true identity of His children to be revealed in these last days as a means of reconciliation, restoration, and a reckoning for His children that have been conspired against, deceived, and abused for centuries.
My prayer is that as God's chosen people turn back to Him, they realize that those who have looked to Jesus and served through the church are not the enemy but rather the power base and the institution that God has worked through when governments and societies worked to oppress His children.
What can the church do?
Continue to do what it has always been done but with more focus on evangelizing the lost children of Israel and serving them by putting more money where our mouth is. The Black church is a multi-billion-dollar institution. Not only does it have the resources to invest in building the black community, but it also has the talent, the wisdom, the ingenuity, and most importantly, the hand and favor of God.
If there is any place people should be looking for help or temporary assistance, it should be the church. Marriage counseling and family support, and biblically-based financial literacy should come from the church. Education, professional training, mentorship, and daycare services should come from the church. This is not about the church leaders and elders facilitating and bearing all of these responsibilities. This is about creating a culture within the church in which people who possess the gifts and the resources to serve in these areas, serve and live sacrificially for the sake of our brethren who need help. When we as God's people operate in our gifts, we provide a solution to someone's problem. Our God-given abilities were given to us to create a living and to meet the needs of others.
What we failed to see is how we allowed the government to play god through social programs. The regulations that say you can continue to receive benefits as long as you don't receive an income of a certain amount has stifled the gifts of many people throughout the decades. Public assistance may have been created with great intentions but it had tremendous repercussions as it may have provided a comfortable enough cushion for many to not push and seek God for the wisdom to get out of their situation. It has also destroyed the nuclear black family and increased fatherlessness as women were not allowed to have a man living in their house or dissuaded from marrying in order to receive assistance. I shudder to think about how many gifts, talents, and inventions are locked up and hidden in our people who are constantly told they are oppressed without hope unless a politician comes and fixes society. I think about how many stable, strong families and generational wealth could have been built had it not been for mass incarceration, and incentivized single parenthood. The government has not only failed to fix it; they have in many cases made it worst. I believe it is the church that should take care of those who cannot care for themselves and those needing temporary assistance. It is the only institution that can be trusted to provide help while leading people to the true source of help and solution (Jesus) with their dignity intact and teaching them to steward their gifts. This certainly requires integrity and accountability from church leadership and its members. It amazes me that people would trust the politicians that don't acknowledge God before they trust their local church leaders. I am aware that many have experienced abuse at the hands of church members and leadership, giving them valid reasons to walk away. My encouragement to them is that the church body is so much broader than those you've encountered and to prayerfully seek God in where to attend church. Church people are PEOPLE. They are sinners saved by grace. There will be disagreements (not a license for abuse), but we give up far too easily on the church.
Check out these articles.
Evidence That Proves Black People are the Biblical Israelites
https://medium.com/@Addison93/trayon-white-is-not-anti-semitic-he-is-a-jew-11906b546f4f
Meet The Igbo Nigeria's Lost Jewish Tribe
https://forward.com/news/331188/meet-the-igbo-nigerias-lost-jewish-tribe/